News: New E10 coming to a forecourt near you!
Introducing E10 by 2020 would help the UK meet its greenhouse gas emissions targets as the UK's petrol fuel sales volumes are increasing, found the all-party parliamentary group (APPG) for British Bioethanol after it launched an inquiry into the introduction of E10 earlier this year.
This is good news for the environment, which we all agree needs attention. However, not such good news for our marine engines!
Fuelling up a boat before hitting the water often happens at retail petrol station forecourts for a vast majority of boaters. Here are a few things to keep in mind the next time you hit the pumps.

Over the past years E5 has been routinely found in all forecourt filling stations, some forecourts now sell E10 and this is due to increase this year (if you look on the pump or filler nozzle you will see this number)
The "E" stands for Ethanol and the number represents the percentage of ethanol in unleaded petrol. E5 is 5% Ethanol with 95% of unleaded petrol, and E10 is 10% Ethanol with 90% unleaded petrol by volume.
E10 is already sold in several other countries including Germany, Belgium, France, Finland and the US. Interestingly, the US sells "marine fuel" with no ethanol.
Advocates of E10 say it holds advantages over other vehicle fuels in that it can be used to fuel most modern vehicles without a need to modify their engines or fuel systems, while reducing emissions.
So what's the problem?
Boaters often store petrol in tanks longer than recommended, for E5 / E10 it's a maximum of only 60 days!

Cars, unlike boats, usually replace fuel every week or two, which will successfully prevent the possibility of water-contamination or phase separation.
Ethanol is hydroscopic, meaning it will absorb water, this will, in time & left unchecked have adverse effects to both inboard & outboard motor fuel systems.
Phase separation, when the weight of the ethanol & water sink to the bottom of the fuel tank has caused increased breakdowns over previous years.
Symptoms such as stalling, misfiring & difficulty maintaining boat speed during trolling, prematurely worn engine parts, internal rusting, clogging of fuel filters & carburettor jets, release of gunk & sludge throughout the fuel system, and frequent water contamination & engine fuel related breakdowns.
The long-term dangers of ethanol (& other alcohol-blended fuels) are many, including deterioration of parts (rubber, aluminium, fibreglass etc.)
Some older marine engines (made prior to 1992) have plastic & rubber parts, & fibreglass tanks that are NOT compatible with E5 / E10 alcohol fuel
The majority of the breakdowns we saw last year were fuel related, usually carburettor and fuel pump, and fuel lines. This is mainly on E5 use, we are expecting this to increase as E10 is phased in.
Main Issues to Keep in mind
Ethanol attracts & absorbs moisture from the air.
The petrol you pump in to your tank may be free from water, but due to condensation (from humidity, temperature, etc.) water does exist in your tank.
Water is soluble in ethanol & will travel through your engine fuel system if used within 60 days, after that it may start to break down.
A water/ethanol mixture, being heavier than petrol, will sink to the bottom of the petrol tank, leaving a lower octane petrol on top. This low octane petrol (lean fuel) can cause performance issues with 4-stroke engines, & can cause damage to 2-stroke engines.
Ethanol tends to dissolve certain resins, which can travel through the engine intake & coat intake valves, causing sticking & bent pushrods or worse. This has been well documented for boats equipped with certain fibreglass petrol tanks made before the early 1990's.

1. Look for E5 on the pump, and try and avoid E10 if you will not use the fuel quickly. Use fresh, high-quality petrol & replace it every 2-4 weeks.
2. Avoid storing petrol in fuel tanks for greater than 60 days. Remember that petrol with ethanol has a shorter shelf life - use it up & replace it quickly.
2. Buy petrol from busy petrol stations - Fuel turnover is faster; petrol will be fresher.
3. Make sure your motor is equipped with a water separating fuel filter. The installation of a water separator in the fuel line will help with small amounts of water.
4. If your engine has an older fibreglass petrol tank, replace it. (Check with manufacturer if your tank was designed to tolerate alcohol fuels). Newer fibreglass tanks are double-lined & made of special material that holds up to ethanol.
5. Avoid running your tank too low where water and ethanol will settle.
6. If not using your boat for a while, run your engine out of fuel, disconnect your fuel line or shut off your fuel tap & let the engine 'run dry' this will empty the system of most of the fuel.
7. If possible, check your petrol tank for the presence of water.
8. If the fuel has a bad or sour smell, or if the fuel is not clear, it could have what is called fogging and you need to drain the fuel and clean the tank.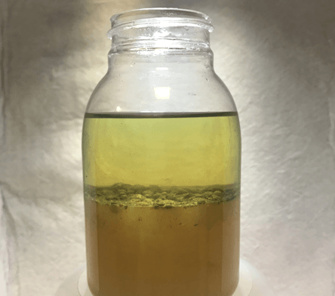 Above: Fogged fuel
Once emptied, fill the tank with clean fuel, and add a cleaner which will help clean deposits in the engine.

You should check the filters for signs of fuel fogging. Be sure to keep checking them regularly throughout the season.
Fuel that has been separated cannot be used again, even if a fuel additive is used. The only option is to remove the fuel.
Quality fuel additives can aide in preventing sediment and stabilize the fuel. Fuel Set, by Liquid Engineering can help, and Mercury Marine sell Quickstor, We would recommend using them.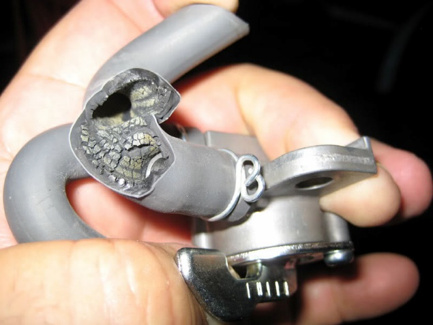 Above: Damaged fuel line
If you have any doubts about your boat and engine set up, please give us a call and we will be happy to advise you!